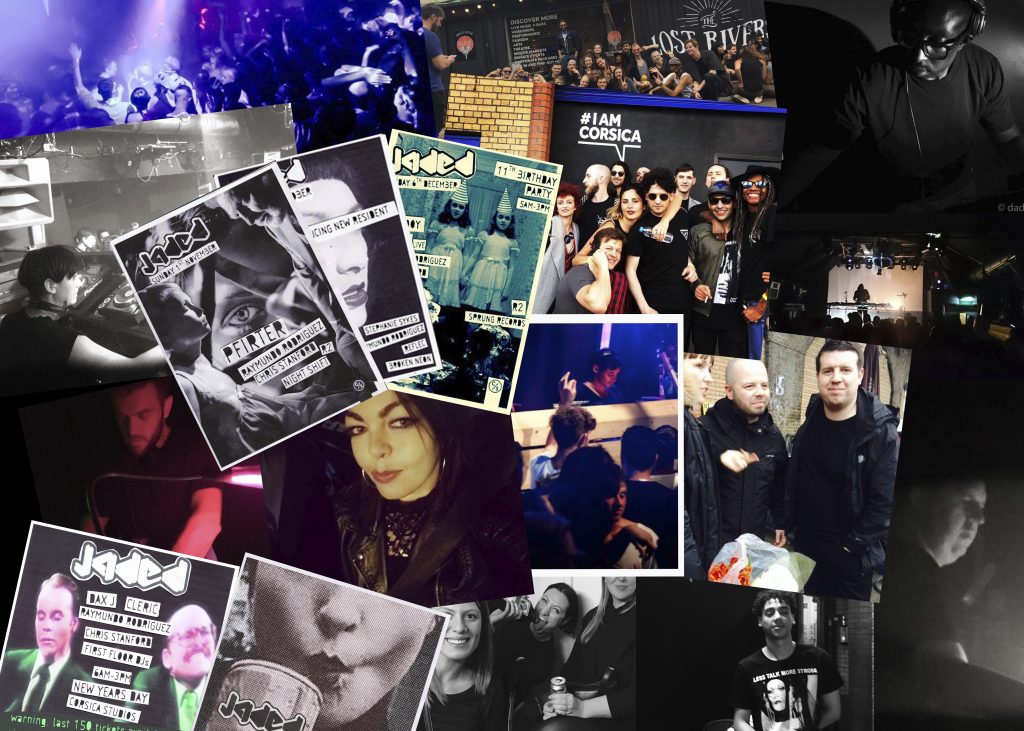 Ahead of Sunday's much-anticipated face-melting session celebrating five years at Corsica Studios, we asked our Room 1 residents to choose some of their favourite moments. Here's what they had to say.
Chris Stanford
T99 – ANASTHASIA
So many good times have been had since we arrived at Corsica 5 years ago, some special memories of back to back sets with people like Truncate, Hector Oaks, Raymundo and Stephanie. Seeing our friends like Dax & Cleric emerge from the scene with many great sets for us early in their careers. The team at Corsica have been most hospitable and have continued to cater for our needs with their ever-evolving superior sound. My best moments have been seeing our great regulars from over the years, so involved and engrossed in the music from the other side of the booth, it's their energy that keeps me itching to get back there each and every time…
Stephanie Sykes
LUIS RUIZ – TREE OF LIFE
My best Jaded memory is from the Fullpanda showcase with Dasha Rush and myself! I remember closing and playing an absolute blinder of a set! I wasn't a resident back then but as soon as the music stopped Krista ran over to me and asked me to be her resident, which obviously I said yes too. I closed with Luis Ruiz – Tree of life and just looked at everyone going mental!! It was GREAT!! ❤
Julez Wyl
After hosting Off Topic and playing every month in room two for just over one year, I was offered my official room one debut, a 3 hour warm up set for Remco Beekwilder! There was a really good crowd there for this, with a very good spirit, and lots of friendly and familiar faces! Remco arrived behind the decks and give me his seal of approval, with his own comment, "PROPER!" It was all a bit surreal at the time, then shortly afterwards I was offered my main room one residency, and no matter how much I dreamed of this, it still comes as a big surprise!
ANSOME – BAD BLOOD (PERC REMIX)
Lots of memories dropping this during my early room two days, it used to go off every single time, I would always feel the intense energy from the dance floor and it would make everyone's arms and legs go full power, causing a fucking mental reaction. The bass of this track complimented the wall of bass at the back of the room an absolute treat!
UMWELT – DENSITY 1
It was hard to tell how many people were in the smoke-filled room, with a slow flashing strobe, a very eery atmosphere. Most faces that I could only just see generally looked scared. Probably not sure if they were at Jaded or at the filming of a horror movie scene! Loved dropping this!
We'll see you all Sunday to celebrate. Until then, Jaded love from us all! (Krista & Ray, Chris, Stephanie, Julez, Charles & James, Ells, James Newmarch, Catherine, and Fadil).
Five Years Of Jaded at Corsica Studios with Pfirter, Cleric, Ayarcana live
Back to News